A Guide for Live Streaming Equipment
TSPhillipT
admin
Hello! Thank you for stopping by the Micro Center Community! This is a breakdown of streaming setups at three different tiers: Beginner, Intermediate, and Pro. It can be very confusing trying to keep track of all the different kinds of equipment used for streaming and what pieces are even necessary.  I will go into detail for things that I would consider required, and things that I would consider an accessory and may not be needed at all.  Also, an important note: While many retailers such as Micro Center are experiencing a shortage of webcams, I will be including these options still so you know what to look for you when you do see webcams start to come back in-stock. 

I highly advise that if you are just starting off streaming to look within the Beginner and Intermediate setups and getting comfortable with the equipment there.  Streaming is a big commitment and starting off with Pro equipment at the beginning can be a waste of money if you don't stream frequently.  When you begin livestreaming and have a solid grasp at it (and hopefully some regular viewers), I would then consider upgrading the equipment you have.  When upgrading your setup, you do not need to do it all at once.  It's absolutely okay to upgrade your equipment one piece at a time.  Upgrading equipment can even be great content for a stream title.  "New Webcam Stream!" or "New Stream Setup" usually draws wandering eyes. 
This guide will not go into detail on what internal hardware your computer needs to stream.  This guide will focus on peripherals and streaming equipment.  Different games will require different recommended hardware to stream and it's possible that you may not even be streaming games.  This guide is aimed for those who already have a computer that can play and stream their desired game(s) without any performance issues. If you are looking to stream podcasts, interviews or content creation, the computer doesn't need to be very powerful.  Keep in mind, a big part of streaming is having a good UPLOAD speed from your internet service provider. 
This guide will assume every stream setup will use at least a webcam/camera and a microphone.  You can obviously stream without either of these, but many streams use both. 
REQUIRED EQUIPMENT AT ALL PRICE POINTS
Broadcasting Software is required to stream at all price points.  Without a program to broadcast with, you have no way of sending your video feed to your livestreaming platform.  A popular program for this is OBS Studio.  It is a free program that streamers use to stream to websites like Twitch and Youtube.  Another popular pick is Streamlabs OBS, which combines Streamlabs with OBS Studio.  Streamlabs is a tool for streamers to manage notifications and chat tools as well as providing other useful features for streamers.
MICRO CENTER'S STREAMING STUDIO
Similar to PCPartPicker, we have a system on our website called Streaming Studio where you can pick parts out for your streaming setup.  The system uses the stock in your local store, and once complete, you can place it as a big pickup order!  It will break down equipment and accessories for streaming into sections where you pick the item that you want.  We also have preset setups for the Beginner, Intermediate, and Pro categories so you have a starting point to work off of, and of course you can edit the presets and change them to fit your preferences/budget.  Lastly, you can select Wide Open and start with a blank slate and fill in the parts that you want!  

BEGINNER STREAMING SETUP
So you're looking to start a stream up for the first time?  There are definitely a few options for budget streaming.  Some people may not even need to buy additional equipment!  Beginning with this sort of hardware may help you decide whether or not you'll want to stream long term or broadcast every once in a while.  To jump start your audience, telling your friends or family would be a good first step!  The equipment here is generally acceptable quality, completing the job of letting viewers see you and hear you. 
Laptops: Most laptops have a built-in webcam and an integrated microphone!  Assuming your laptop can handle streaming and playing games, you don't really need to get any additional equipment if you are looking to stream for a budget. 
Webcams: There are a lot of options for budget webcams, just note that they aren't usually going to be high definition and they usually have low frame rates.  They still will get the job done and your viewers will be able to see you.
Microphone: What is nice here is that webcams usually have a built-in microphone!  Although not the greatest quality, they again still perform for what you need them to.  If you have a pair of headphones that have a microphone built in, those should work as well.  For the beginning tier, I'd recommend getting a gaming headset.  These generally have a quality microphone built-in.  If you notice the microphone start to distort or hear background noise, adjusting the noise gate in your broadcasting software should usually remedy this.


INTERMEDIATE STREAMING SETUP
Maybe you started streaming with a budget setup and think it's time to upgrade.  You could also be someone who has decided to start with some nicer equipment to give your viewers a better experience.  The equipment here will give new viewers and strangers a better perception of the stream and I recommend getting equipment here if you want to try getting return viewers that are strangers.  Friends are more forgiving and generally watch streams even with issues, whereas strangers may not be so kind.
Webcams: We are now looking for higher quality webcams.  Ones that have a higher resolution, ideally 1080p or higher. Webcams here also have a nicer frame rate and you won't look like a blur when moving. 
USB Microphone:  Have you been to those streams or have those friends whose microphone just pick up everything in a distorted way?  People talking in the background, loud clinks and clangs, and even the breathing of the person?  We are starting to use external microphones here!  These are all standalone USB Microphones with higher audio quality than integrated microphones you'll find in headphones, headsets and webcams.  You can consider using Wind Screens/Pop Filters if you find your audio having loud hisses or pops.  Boom Arms are also recommended to pair with your microphones, or even required if your microphone does not come with a stand.  If you are using a USB microphone, you may want to consider switching to actual headphones rather than a headset since headphones usually have better audio quality.  Not so much a streaming improvement but a quality of life improvement.  


PRO STREAMING SETUP


Now we're getting into the heavy duty setups, and I only recommend these types of setups if you are going to be very serious about streaming.  This equipment is really for those that already have a captive audience where a streaming career is a possibility or is already happening. While the equipment here is very high quality, it requires multiple parts and is not a simple plug-and play setup.
DSLR Cameras:  Let's face it, even the best webcam is just too small to facilitate the quality a DSLR Camera can have.  Whether it be a better field of vision, better focusing, better lighting controls, DSLR Cameras will almost always be superior.  Keep in mind, DSLR Cameras were not designed for streaming and the camera you pick will need to be able to stay powered without the use of a battery, as well as provide a clean HDMI output (no icons, no framing, no words).  You will also need a capture card to receive the HDMI output from the camera into your PC.  Lastly, you will also need a mount for these cameras.  The DSLR Cameras listed below will work, but you will need to get the power supply/dummy battery elsewhere as Micro Center does not supply these.  You can also find a list of DSLR Cameras that work for streaming here.



| | | |
| --- | --- | --- |
| | | |
| | | |
| Requires dummy battery for power (sold separately) | See details below | Requires dummy battery |
| | | |
| | | |
| Requires dummy battery | | |
Note: Canon EOS M200 is powered by a DC Power Adapter.  Requires Compact Power Adapter CA-PS700 with DC-E12 DC Coupler for Constant Power
XLR Microphones:  Even higher quality than USB microphones, XLR microphones capture a larger range of sounds.  Most USB Microphones start distorting when players yell into the microphone, or have a hard time differentiating peaks when speaking softly.  I highly recommend thoroughly researching XLR Microphones if you are planning to get one.  Some microphones are better at picking up high pitched voices, some perform better with singing or yelling.  Research goes a long way here, finding the perfect microphone for your voice can make your stream's audio feel super natural and crisp.  Keep in mind, you are going to need a boom arm for XLR microphones, and most either come with a wind/screen or pop filter.  
| | | |
| --- | --- | --- |
| | | |
| | | |
| | | Fun fact: This mic was used to record Michael Jackson's "Thriller" |
Audio Interface: XLR Microphones do lack a USB connection, so you will need to use an audio interface to turn the analog signal from the microphone to a digital one.  These are commonly called a DAC (Digital-to-Analog Converter).  XLR microphones also have a low and quiet audio output, so you will usually need a PreAmplifier (Pre-Amp).  This is where the Audio Interface comes in, with a DAC and Pre-Amp built together, they let you connect your XLR microphone to your computer.  They also include a bunch of adjustment options for your XLR microphone so you can fine-tune the way you sound.  You may also want to consider using high-end headphones here as well, as they work extremely well with Audio Mixers.  

| | | |
| --- | --- | --- |
| | | |
| | | |
| Doesn't have a Pre-Amp | | USB/Audio Interface |
| | | |
| | | |
STREAMING ACCESSORIES
There are a lot of accessories that can be extremely useful for your stream.  Some are optional, some may be required depending on your overall setup. 
Capture Cards: This may be required depending on what content you are streaming.  If you plan on streaming a game console, or using a DSLR Camera to stream, you'll need one.  If you are planning to stream content directly from your computer screen, you will not need a capture card. 
Audio Extractor:  These devices take an incoming HDMI signal and split it into separate HDMI and Audio signals.  Some capture cards may require you to split the audio from your HDMI input to get audio.  You can also use this to feed your games audio into an audio mixer for adjustments on the game audio or putting the game audio on a different feed for your computer. 




Boom Arm:  
If you plan on using a USB or XLR Microphone, you should look towards using a boom arm to mount your microphone.  Some microphones do not come with stands, so it will be required to mount your microphone.  This helps with field of view, as some stands have an issue with blocking the screen.  It is also great to move your microphone as you change your posture throughout the stream.
Stream Deck: An efficiency accessory for streamers.  It's a pad with buttons that lets you program macros to each button.  Streamers use this for playing certain songs when something happens, transitions to different scenes/layouts, or opening programs.  There is a lot that can be done that can make your stream more entertaining, although this is definitely a quality-of-life upgrade and not required.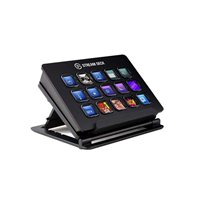 Green Screen: Another accessory that is not required for streaming, but it can lead to fun and entertaining content for your viewers.  This also allows more options for setting up your layout for your stream because you are not as restricted with a background on your webcam.  Keep in mind, you will need to use a broadcast software that can work with green screens like OBS Studio. 

Lighting Stands: Definitely not required, but it's a very good way of increasing the quality of a webcam.  Good lighting coming from the direction of your webcam can dramatically change the way your webcam captures you and it will almost always look nicer. 
If you have any questions or inquiries about anything in this article or if you'd like to share your current stream setup and wish list, please post them below!  I will try to answer them as soon as I am able to.  I will also be trying to keep this article up to date, especially when new things for streaming come out.  After going through everything, please stop by our
Streamer Studio Builder
to pick out the parts that you would like to add to your streaming setup!