How to run the Windows Memory Diagnostic Tool in Windows 10
Ian
admin
If you are worried about possible RAM issues, the Memory Diagnostic Tool will check the RAM in your computer for errors. This process is built into Windows and can be a helpful checkup for possible RAM issues. 
Here is how to run the Windows Memory Diagnostic Tool in Windows 10:
1.   Press the Windows key on your keyboard and the letter R at the same time to open the Run window. Type mdsched.exe and press OK.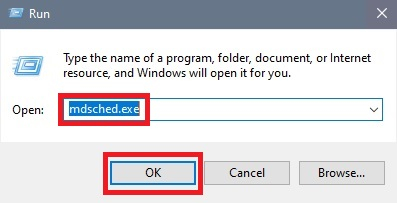 2. 
Windows Memory Diagnostic
 will open with two options for scanning:
The first option is 
Restart now and check for problems 
if you want to run the scan immediately.
The second option is 
Check for problems the next time I start my computer 
if you want to run the scan later after a restart.
3.   When the computer restarts, the Memory Diagnostic will automatically start. When the diagnostic completes the system will restart again.