Print Your Own Personal Protective Equipment!
ryau
✭✭✭✭✭
By Andy Leer, Merchandise Manager @ Micro Center.
With all of the recent events in the world, PPE (Personal Protective Equipment) has become more and more essential to our everyday lives. Obtaining PPE can be quite difficult for the average person and even extremely difficult for our essential workers.
Makers have recently turned their making skills to help with the production of PPE at home. Utilizing 3D printers, makers and DIYers have been 3D printing face shields and masks for hospitals, as well as creating other useful items such as ear savers and pocket sized tools that assist in contactless interactions with items such as doors, locks and buttons.
We are seeing many people using this as an opportunity to jump into 3D printing or expand their existing printer farm. It is important to understand that there are a few types of 3D printing so that you make the right choice if you are looking to get into 3D printing. The most common type uses Fused Filament Fabrication of FFF for short. This form essentially acts as a smart glue gun that builds items up layer by layer using a material called filament. Growing in popularity, another form of 3D printing is  SLA or LCD Resin printing. These lower cost SLA printers use an LCD screen vs a laser to cure liquid resin. This type of printing can produce very fine results, but is often not a good use for larger functional pieces such as masks and shields.
The 3D Printer
The Creality 3D printers have continually impressed us here at Micro Center and the popularity of the Ender 3 Pro has been outstanding. This printer, because of its straightforward nature, allows the user to easily modify and improve with simple prints. If you need a bed larger than the 220mm x 220mm x 230mm you can check out the larger CR-10s. The CR-10s boasts a 300mm x 300 mm x 400mm build volume which will allow you to produce more in the same run than it's slightly smaller predecessor. Overall, the benefit to Creality printers is their community. There are so many forums, upgrades, and YouTube videos that you will be able to find any information you need should you run into an issue.
The Filament
Polyethylene Terephthalate Glycol-modified or PETG for short has become increasing popular during the pandemic as it has a higher melting temperature which is suggested to be able to withstand a sterilization within a medical autoclave. For a more common and great starter material a lot of people turn to Poly-Lactic Acid, or PLA. This has been a popular material for a while now and is probably the most commonly printed with. This material, while having a lower melting point, would be best utilized for items around the house and not necessarily major mechanical parts. Printing shields and face masks with PLA is possible just as it is with PETG. Your results may vary based on the quality of the print and material.
Face Masks
Don't forget, if you don't have a 3D printer, there are a number of other resources out there for making quick cloth masks as well! If you are using a 3D printer, here is an example of a design that we came across.
Skill Level: Medium
URL: https://copper3d.com/hackthepandemic/
Amount of Filament: 6.45m / ~ 51g
Time Required: Roughly 5 Hours @ .2mm layer height
Other Materials Needed: Elastic or other Strap material, and filter material, please see site for recommended materials.
Tips/Advice: Its worth noting that 3D printed masks aren't perfect and your mileage may very. Comfort may also be a consideration.
Face Shields
Shields have by far been the most printed PPE during this epidemic. Makers and maker communitys and individuals from all around have stepped up to print this protective gear. Shields are typically composed of 3 parts. A 3d printed band to go around the forehead, a pieces of transparent plastic, often PETG, and a strap to go around the back of the head. Sometimes a secondary piece of plastic is made to go on the bottom of the transparent piece to help retain its shape. It can be difficult to obtain some of the secondary pieces so people have utilized overhead transparency sheets as well as rubber bands to make up the remaining 2 pieces. Small hooks have also been designed to clip onto a ball cap and then hold the transparent plastic in place.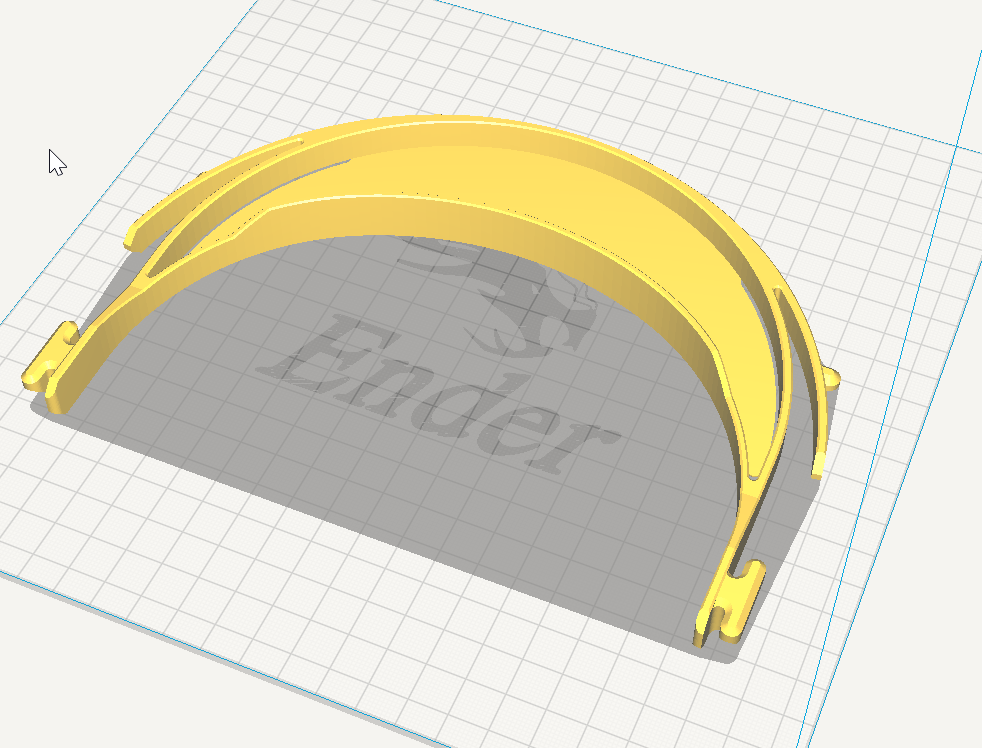 Skill Level: Easy

URL: https://www.prusaprinters.org/prints/28504-slim-rc3-us-with-comfort-features-plus-shield/files
Amount of Filament: 10.18m / ~ 30g
Time Required: Roughly 3 hours at .2mm layer height
Other Materials Needed: Transparent Plastic Sheet, Elastic or Large Rubber band for strap
Tips/Advice: Make sure to check with local groups to see what preferred model they are accepting as some groups have an approved model for their use case.
Resources:
Some additional items you may want to check out include:
These would all be considered easier prints and use less filament per piece than the two above.
Ear Savers: https://3dprint.nih.gov/discover/ear-saver
CoVid Door/Button Tools: https://www.thingiverse.com/thing:4255283
Cloth Mask Strap Clips: https://www.thingiverse.com/thing:4294763
You may also want to sign up with Masksfordocs who can pair you up with local healthcare groups to make sure the right equipment goes to the right people.

If you've 3D printed and/or donated any PPE, please share your donations and info about your printer and model files used.