ryau
✭✭✭✭✭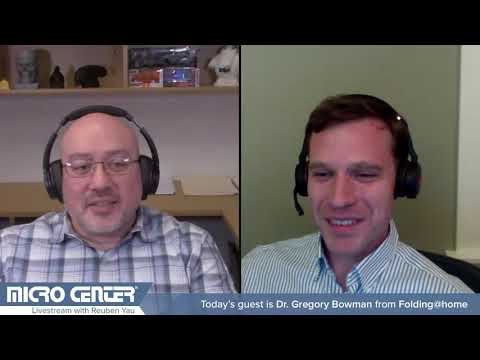 If you'd like to help join the fight against COVID-19, we've set up a
[email protected]
team
#257944
for our customers and community to join.
[email protected]
is a distributed computing project, where people can download the application and use their CPUs and GPUs to run simulations when your PC is not in use, which help biochemists find cures for diseases. We're all battling through the impact of COVID-19 but we will not let it defeat us. This is a great way to give back to the scientific community and help save lives.
If you've recently built or acquired a new PC, get your old PC folding!
We'd like to give shoutouts to the
PCMasterrace subreddit
,
Nvidia
and
Linus Tech Tips
for giving this project renewed visibility. The
[email protected]
team
tweeted
that so many users have joined recently that they just passed the exaFLOP barrier:
Thanks to our AMAZING community, we've crossed the exaFLOP barrier! That's over a 1,000,000,000,000,000,000 operations per second, making us ~10x faster than the IBM Summit!
Installing and Configuring
If you'd like to help donate your spare CPU & GPU cycles, you can download and install the
[email protected]
application from their site: 
https://foldingathome.org/start-folding/
There are clients available for Windows, MacOS, and various flavors of Linux (32 and 64 bit):
https://foldingathome.org/alternative-downloads/
If this is the first time you're installing the client, you will need to configure your identity the first time you open the application. If you did the Express installation, doubleclick the
[email protected]
icon on the desktop - it might take a few moments for it to initialize and load the web control client in your browser.
Select "Set up an identity" and click the Start Folding button.
Now you can enter your name and our team number: 257944.
If you get Passkey (optional) it will rack up more points as you fold. Just make sure enter the same "name" when signing up for a Passkey, which will be emailed to you. Once you click save you should be good to go, the client will start to download work units and start processing them. Each work unit completed and uploaded is another batch of protein simulation data that's used to determine the best way to fight COVID-19 and your points will continue to accumulate the more work units your PC processes.
You may notice that the drop down for the cause doesn't show Coronavirus or COVID-19, that's ok, just leave it as "Any disease" and the servers will assign COVID work units as this project is being prioritized above all others right now.
If you've already downloaded the FAH client, you can join our team by clicking on the Configure button and entering our team number: 257944.
In the Advanced tab there's an option to select the cause you'd like to support, including Alzheimer's, Cancer, Huntington's and Parkinson's. There's currently no option for COVID-19, but if you leave the selection as "Any" the work servers will assign COVID-19 work units, as those projects are being prioritized.
We'd love to see our customers and community join the
MicroCenterOfficial team
to help fight back against COVID-19. If you're already a folder, feel free to comment and post your stats, system usage, screenshots, etc.
Thanks and happy folding!
Reuben
Disclaimer: The
[email protected]
utility is well-known to users of the utility, including associated hardware and software necessary to effectively run the utility, to force a PC to run at full-load for best results, although the utility (or associated utilities) may be used to configure the system to run below full-load. Using
[email protected]
utilities will generally raise the power usage of your system and will very likely increase your monthly utility power bill. Additionally, due to the high load generally placed on a system through the
[email protected]
utility or associated utilities, it's possible that hardware may fail during your participation in
[email protected]
By choosing to participate in
[email protected]
you agree and accept that your participation may incur additional costs due to an increase in power usage and/or hardware or software failure. By participating, you also agree to absolve Micro Electronics, Inc. d.b.a. Micro Center of responsibility for any additional costs or damage incurred by use of the
[email protected]
utility or any associated utility or similar utilities, including, but not limited to, an increased utility bill relative to
[email protected]
usage, damaged hardware, corrupted software, loss of time and wages.
Leave a Comment