How to add a website to ESET Banking & Payment Protection
If you have ESET Internet Security or ESET Smart Security Premium and the Banking and Payment Protection secured browser isn't automatically detecting a website you wish to use it for, it can easily be added to your ESET preferences so the secured browser opens when you visit that specific website.
Here is how to manually add a website to be protected by the ESET Banking & Payment Protection on your PC:
1. To begin, open the ESET Security software found on your PC. To do this there are two easy ways to get the program open on your PC: 
Method 1: Click the Start icon, typically found at the lower left corner of the screen, and look for ESET from the list of applications and select it. Then select ESET Security. 
Method 2: Go to the hidden icons menu typically found on the lower right hand corner of the Windows taskbar and click on the ESET icon.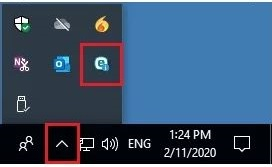 2. From the ESET main program window click Setup in the menu on the left.
3. From the Setup menu, select the option for Security tools.
4. From the Security tools window, next to the Banking & Payment protection, click on the Gear icon for Advanced setup for Banking & Payment protection.
5. A pop-up window will appear for Advanced setup. At the bottom of the protected websites window, click on Add.
6. Enter the website URL into the
Website domain
box to be protected. Select
Secured browser
for the option of  "Open this website with". Click
OK
to save. 
7. The manually added website will appear in the list of protected websites. Click 
OK
when finished and to close the protected websites/advanced setup window.
That website should now automatically open with the Banking & Payment Protection secured browser from now on. 
Related Articles: