How to manually open the ESET Banking & Payment Protection secured browser
Do you have ESET Internet Security or Smart Security Premium and wish to make sure your online shopping or banking is protected? You can easily open up the secured Banking & Payment protection browser, a feature of ESET that will help keep you safe online for these websites. Banking & Payment protection is an additional layer of protection designed to protect your financial data during online transactions.
1. To begin, open the ESET Security software found on your PC. To do this there are two easy ways to get the program open on your PC: 
Method 1: Click the Start icon, typically found at the lower left corner of the screen, and look for ESET from the list of applications and select it. Then select ESET Security. 
Method 2: Go to the hidden icons menu typically found on the lower right hand corner of the Windows taskbar and click on the ESET icon.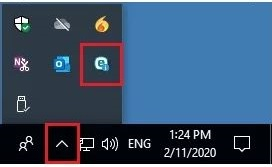 2. From the ESET main program window that opens on your PC, click Tools from the menu on the left.
3.   Click on Banking & Payment protection from the Tools screen.
4.   A new window will appear. The ESET Banking & Payment protection secured browser will open with a green border surrounding it.
5.   Enter in a website URL of a bank or financial website and the green border will remain indicating it is still within the secured browser.
Related Articles: