AMD Zen 3/Ryzen 5000 Series Launch Discussion
TSPhillipT
admin
 

Today, AMD did an announcement stream for their Zen 3 Processors and they look great!  Advancements on the Zen 3 Architecture is making their processors look insanely good!

Here is what we know from the event.
The
Zen 3 Architecture
has achieved a 
19% increase in IPC (instructions per clock), 
which translates to much-improved single threaded performance while maintaining the already excellent multi-threaded performance Ryzen has been known for. This increase is largely due to: 
Unified 8-Core Complex
2x Direct Access to L3 Cache per Core
Advanced Load/Store Performance and Flexibility
Wider and more flexible Floating Point and Integer Execution units: Deliver more execution units at a lower latency
"Zero Bubble" Branch Prediction: More Branch Prediction bandwidth, which allows less delay when handling back to back predictions
AMD shows the 5900X to be better than the 3900XT by about 26% on average and emphasized the easy upgrade process of just swapping out a chip on a motherboard.
AMD also showed the Single-Threaded performance vs. the Intel i9-10900K using Cinebench R20 as a benchmark. At this point, AMD is showing off here.
(Screenshots from AMD Zen 3 Keynote)
Here is the comparison for the AMD 5900X vs. the Intel 10900K.  It looks like a slight increase in triple AAA games with much larger increases in esports focused titles such as League of Legends, Dota 2, & CS:GO (Counter-strike: Global Offensive).

(Screenshots from AMD Zen 3 Keynote)
 The last processor announced was the 5950X and was compared vs. the 3950X and the 10900K.  The 5950X sees large increases over the 3950X in Content Creation with a 27% increase in CAD and a 12% increase in rendering while seeing up to 29% better gaming performance. These are some significant gains. The 5950X, as expected, will outperform the 10900K in content creation and see slightly better performance than the 10900K in gaming, with results slightly ahead of the 5900X. 
The Zen 3 Ryzen 5000 Series Processors are to be launched on November 5th. These processors will be compatible with B550, X570, and select B450 boards through a beta BIOS update.* Check with your motherboard manufacturer for compatibility.
6 Cores / 12 Threads
3MB L2 Cache, 32MB L3 Cache
Base Clock: 3.7GHz / Boost Clock: Up to 4.6GHz
Comes with a Wraith Stealth Cooler
Default TDP: 65W
Cost: $299 USD
8 Cores / 16 Threads
4MB L2 Cache, 32 MB L3 Cache
Base Clock: 3.8GHz / Boost Clock: Up to 4.7GHz
No Stock Cooler
Default TDP: 105W
Cost: $449 USD
12 Cores / 24 Threads
6MB L2 Cache, 64MB L3 Cache
Base Clock: 3.7GHz / Boost Clock: Up to 4.8GHz
No Stock Cooler
Default TDP: 105W
Cost: $549 USD
16 Cores / 32 Threads
8MB L2Cache, 64MB L3 Cache
Base Clock: 3.4GHz / Boost Clock: Up to 4.9GHz
No Stock Cooler
Default TDP: 105W
Cost: $799 USD
They also did announce Radeon 6000 "Big Navi" and showed some gameplay of Borderlands 3 at 4K using both the 5900X and a Radeon 6000 GPU.  I was not sure what I was supposed to get, since it looked like normal 4K Gameplay and it was such a short snippet.  AMD's full announcement for RDNA2/Big Navi is schedule for Oct. 28th, so stay tuned for that!
If you missed the Keynote, check it out in the video below!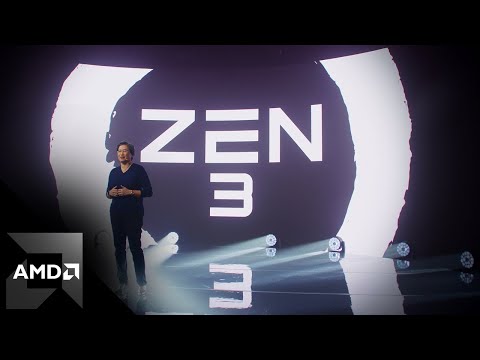 I am surprised by the higher-end processors lacking stock coolers, but the 3000 Series XT did the same thing.  I think the stock cooler was a massive bonus for Ryzen Processors and helped save costs for budget builds. 

While we hope you enjoyed this read, we'd like to hear from you!
Which Zen 3 Processor interests you, and why?  Are your sights set on the Zen 3 for gaming, or do you have more interest in its performance with content creation?   Let us know in the comments below! 
Check back soon for more details on the release of the 5000 series!
Leave a Comment